In July 2008, I moved to Melbourne with a plan on staying for approximately 12 months.
It turns out I was completely wrong about that time frame, because after more than 5 years, I'm still here!
Quite simply, Melbourne has been amazing. I've had the time of my life.
Melbourne's food, bar and sporting culture have been highlights. On the other hand, Melbourne's weather has not been a highlight!
I've met some great friends, and explored some beautiful places.
I've bought a house in Melbourne.
I've also been really impressed by Melbourne's tech community. In particular, being a part of the WordPress Melbourne User Group.
But best of all, I've been lucky enough to meet the love of my life, Jen.
The Future
After many discussions, Jen and I have decided to move to Perth.
In 36 hours time, Jen and I will be leaving Melbourne and starting our huge road trip to the other side of Australia.
Here's the 3700km plan: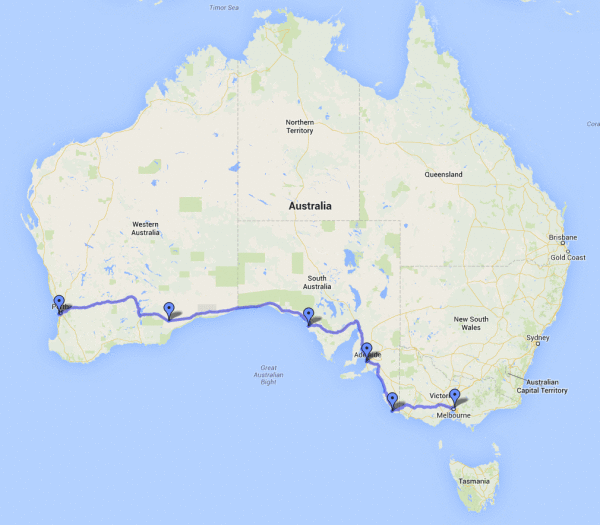 We'll be taking our time on this journey – there's plenty of sightseeing to be done along the way!
The trip even includes a short ferry ride across the Murray River!
We're both really excited about starting the next chapter of our lives in Perth.
I'm looking forward to being closer to my family and long-time friends, and being surrounded by amazing beaches.
I'm also excited about being in the same office as my business partner and colleagues.
Melbourne, I will miss you. But you never know – we may even be back some day!